Etusivulle
---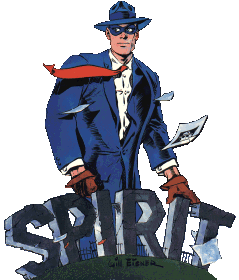 Spirit
Spirit
Tarina ja kuvitus: Will Eisner
---
Spirit-kokoelmat
---
Spirit 1 - 1986 / Jalava -- (102 s. mv)

Sisältää tarinat:
Vettä --- Water -- (Nro 514) - 2.4.1950
Lumi --- Snow -- (Nro 394) - 14.12.1947
Taulapää --- Pinhaead -- (Nro 358) - 6.4.1947
Plaster of Paris --- Plaster of Paris -- (Nro 441) - 7.11.1948
Sankari --- The Hero -- (Nro 572) - 13.5.1951
Saarten Sally --- Sally of the Islands -- (Nro 477) - 17.7.1949
Naamioitu mies --- The Masked Man -- (Nro 478) - 24.7.1949
Pallopeli --- The Ball Game -- (Nro 479) - 31.7.1949
Matua --- Matua -- (Nro 480) - 7.8.1949
Jalokivi --- The Jewel of Gizeh -- (Nro 511) - 12.3.1950
Carrion --- Carrion -- (Nro 512) - 19.3.1950
Saari --- The Island -- (Nro 513) - 26.3.1950
Pelastuminen --- Rescue -- (Nro 515) - 9.4.1950
Lumokas Looie --- Introducing Lovely Looie -- (Nro 463) - 10.4.1949
---
Spirit 2 - 1992 / Jalava -- (72 s. väri)

Sisältää tarinat:
"Jäätä" --- Ice -- (Nro 449) - 2.1.1949
Lemmen kahleissa --- A Prisoner of Love -- (Nro 450) - 9.1.1949
Thorne Strand ja Spirit --- Thorne Strand and the Spirit -- (Nro 452) - 23.1.1949
Pikkupurkilla Shanghaihin --- A Slow Ship to Shanghai -- (Nro 453) - 30.1.1949
Ystävänpäiväkortti --- The Valentine -- (Nro 456) - 20.2.1949
Kohtalokas sarjakuvalehti --- The Deadly Comic Book -- (Nro 457) - 27.2.1949
Glob --- Glob -- (Nro 458) - 6.3.1949
Kevätpäiväntasaus --- The Vernal Equinox -- (Nro 460) - 20.3.1949
Nuori tri Ebony --- Young Dr. Ebony -- (Nro 470) - 29.5.1949
Niin kuoli Autumn Mews --- Death of Autumn Mews -- (Nro 489) - 9.10.1949
---
Spirit 3 - 1995 / Jalava -- (72 s. väri)

Sisältää tarinat:
Maan alla --- Life Below -- (Nro 404) - 22.2.1948
Sotamorsiamia --- War Brides -- (Nro 407) - 14.3.1948
Tunneli --- Tunnel -- (Nro 408) - 21.3.1948
Perintö --- The Inheritance -- (Nro 411) - 11.4.1948
The O'Dolanin henki --- The O'Dolan -- (Nro 412) - 18.4.1948
Tehtävä Pariisissa --- Assignment: Paris -- (Nro 417) - 23.5.1948
Radzapurin smaragdi --- The Emerald of Rajahpur -- (Nro 418) - 30.5.1948
Tappoase --- The Guilty Gun -- (Nro 419) - 6.6.1948
Cromlech oli luonnonlapsi --- Cromlech Was a nature Boy -- (Nro 423) 4.7.1948
Haukkuroli --- Barkarolle -- (Nro 425) - 18.7.1948
---
The Spirit - 2008 / Egmont -- (192 s. väri)
Alkuteos: The Best of the Spirit - 2005 / DC Comics

Sisältää tarinat:
Spiritin synty --- The Origin of The Spirit -- (Nro 1) - 2.6.1940
Silk Satin --- Introducing Silk Satin aka Silk Satin -- (Nro 42) - 16.3.1941
Viimeinen ratikka --- The Last Trolley aka The Man Who Killed The Spirit -- (Nro 304) - 24.3.1946
Postimerkki --- Cargo Octopus aka The Postage Stamp -- (Nro 320) - 14.7.1946
Kohtalokas P'Gell --- Meet P'Gell -- (Nro 332) - 6.10.1946
Tappaja --- The Killer aka Henry the Veteran -- (Nro 341) - 8.12.1946
Elämää pinnan alla --- Life Below -- (Nro 404) - 22.2.1948
Villiriisi --- This is "Wild" Rice -- (Nro 410) - 4.4.1948
Viimeinen jako --- The Last Hand -- (Nro 416) - 16.5.1948
Gerhard Shnobblen tarina --- The Story of Gerhard Shnobble -- (Nro 432) - 5.9.1948
Lorelei Rox --- Lorelei Rox -- (Nro 434) - 19.9.1948
Kaksi elämää --- Two Lives -- (Nro 446) - 12.12.1948
Joulun 1948 henki --- The Christmas Spirit [of 1948] : Basher Bains -- (Nro 447) - 19.12.1948
Vierailija --- Visitor -- (Nro 455) - 13.2.1949
Satin --- Satin -- (Nro 472) - 12.6.1949
Leikkikonepistooli Rätätätän tarina --- The Story of Rat-Tat the Toy Machine Gun -- (Nro 484) - 4.9.1949
Kymmenen minuuttia --- Ten Minutes -- (Nro 485) - 11.9.1949
Autumn Mewsin kuolema --- Death of Autumn Mews -- (Nro 489) - 9.10.1949
Kettua haukussa --- Fox at Bay -- (Nro 491) - 23.10.1949
Kavaltaja --- The Embezzler -- (Nro 496) - 27.11.1949
Sand Saref --- Sand Saref -- (Nro 502) - 8.1.1950
Pidättäkää Sand Saref --- Bring in Sand Saref -- (Nro 503) - 15.1.1950
---
Muissa julkaisuissa olevat tarinat
---
The Feud -- (Nro 301) - 3.3.1946
Tarnation, Texas -- Mustanaamio 16 / 1991 -- (7 s. väri)
Meet P'Gell -- (Nro 332) - 6.10.1946
Nimeni on P'Gell -- Black Special No 1/1991 / Semic -- (7 s. mv)
The Portier Fortune -- (Nro 340) - 1.12.1946
Portierin perintö -- Tapiiri 2/86 -- (7 s. mv)
P'Gellin pauloissa -- Black Special No 1/1991 / Semic -- (7 s. mv)
Baxter's Perfect Crime -- (Nro 345) - 5.1.1947
Täydellinen rikos -- Black Special No 1/1991 / Semic -- (7 s. mv)
Saree -- (Nro 346) - 12.1.1947
Saree -- Tapiiri 3/86 -- (7 s. mv)
Saree -- Black Special No 1/1991 / Semic -- (7 s. mv)
School for Girls -- (Nro 347) - 19.1.1947
Tyttökoulu -- Tapiiri 3/86 -- (7 s. mv)
Tyttökoulu -- Black Special No 1/1991 / Semic -- (7 s. mv)
The Fortune -- (Nro 363) - 11.5.1947
Kohtalokas perintö -- Black Special No 1/1991 / Semic -- (7 s. mv)
Il Duce's Locket -- (Nro 365) - 25.5.1947
Mussolinin medaljonki -- Black Special No 2/1991 / Semic -- (7 s. mv)
Money, Money -- (Nro 391) - 23.11.1947
Rahaa, rahaa -- Black Special No 1/1991 / Semic -- (7 s. mv)
Slippery Eall -- (Nro 392) - 30.11.1947
Rikosten virta -- Mustanaamio 24 / 1986 -- (7 s. 3D)
The Fallen Sparrow -- (Nro 398) - 11.1.1948
Langennut varpunen -- Mustanaamio 20 /2003 -- (7 s. väri)
This is "Wild" Rice -- (Nro 410) - 4.4.1948
Tämä on "Wild" Rice -- Sarjakuvan maailmat (Otava, 1982) -- (7 s. mv)
The Wedding -- (Nro 414) - 2.5.1948
Häät -- Mustanaamio 24 / 2003 -- (7 s. väri)
The Job -- (Nro 415) - 9.5.1948
Työ -- Mustanaamio 25 / 2003 -- (7 s. väri)
The Springtime of Dolan -- (Nro 424) - 11.7.1948
Dolanin keväthuuma -- Mustanaamio 3 / 2004 -- (7 s. väri)
Bakarolle -- (Nro 425) - 18.7.1948
Haukkuroli -- Mustanaamio 5 / 2004 -- (7 s. väri)
Junior President Election -- (Nro 429) - 15.8.1948
Nuorisopresidentin vaalit -- Mustanaamio 6 / 2004 -- (7 s. väri)
The Prisoner of Donjon -- (Nro 431) - 29.8.1948
Tyrmälän vanki -- Tapiiri 3/85 -- (7 s. väri)
Donjonin vanki -- Mustanaamio 10 / 2004 -- (7 s. väri)
Ace McCase -- (Nro 435) - 26.9.1948
Ace McCase -- Mustanaamio 11 / 2004 -- (7 s. väri)
Nazel B. Twitch -- (Nro 438) - 17.10.1948
Nazel B. Twitch -- Tapiiri 1/86 -- (7 s. mv)
Ice -- (Nro 449) - 2.1.1949
Jäätä -- Mustanaamio 26 / 1987 -- (7 s. mv)
A Prisoner of Love -- (Nro 450) - 9.1.1949
Rakkauden hinta -- Mustanaamio 6 / 1987 -- (7 s. mv)
Thorne Strand and the Spirit -- (Nro 452) - 23.1.1949
Thorne Strand ja Spirit -- Mustanaamio 13 / 1987 -- (7 s. mv)
A Slow Ship to Shanghai -- (Nro 453) - 30.1.1949
Matkakohteena Shanghai -- Mustanaamio 14 / 1987 -- (7 s. mv)
Visitor -- (Nro 455) - 13.2.1949
Vierailija -- Mustanaamio 16 / 1987 -- (7 s. mv)
Foul Play -- (Nro 461) - 27.3.1949
Lepakoita tapulissa -- Mustanaamio 7 / 1988 -- (7 s. mv)
A Pot of Gold... aka The Leprechaun -- (Nro 462) - 3.4.1949
Kulta-aarre -- Mustanaamio 4 / 1988 -- (7 s. mv)
Introducing Lovely Looie -- (Nro 463) - 10.4.1949
Kaunis Looie -- Mustanaamio 6 / 1988 -- (7 s. mv)
The Hunted -- (Nro 466) - 1.5.1949
Saalistettuna -- Mustanaamio 14 / 1988 -- (7 s. mv)
The Crime of Passion -- (Nro 468) - 15.5.1949
Intohimorikos! -- Mustanaamio 16 / 1988 -- (7 s. mv)
Satin -- (Nro 472) - 12.6.1949
Satin -- Mustanaamio 19 / 1988 -- (7 s. mv)
The Prediction -- (Nro 473) - 19.6.1949
Lumimyrsky kesäkuussa -- Mustanaamio 21 / 1988 -- (7 s. mv)
The Elevator -- (Nro 474) - 26.6.1949
Hissi -- Mustanaamio 24 / 1989 -- (7 s. mv)
Ye Olde Spirit of '76 -- (Nro 475) - 3.7.1949
...ja kadonnut dokumentti -- Mustanaamio 26 / 1988 -- (7 s. mv)
Lilly Lotus -- (Nro 476) - 10.7.1949
Spirit kateissa -- Mustanaamio 24 / 1986 -- (7 s. 3D)
Sally of the Islands -- (Nro 477) - 17.7.1949
Etelämeren Sally -- Mustanaamio 1 / 1989 -- (7 s. mv)
The Masked Man -- (Nro 478) - 24.7.1949
Naamiomies yllättää -- Mustanaamio 2 / 1989 -- (7 s. mv)
The Ball Game -- (Nro 479) - 31.7.1949
Baseball -diktaattori -- Mustanaamio 3 / 1989 -- (7 s. mv)
Matua -- (Nro 480) - 7.8.1949
Matua -- Mustanaamio 5 / 1989 -- (7 s. mv)
The Return -- (Nro 481) - 14.8.1949
Kotona jälleen -- Mustanaamio 6 / 1989 -- (7 s. mv)
The Candidate -- (Nro 482) - 21.8.1949
Pormestari -- Mustanaamio 8 / 1989 -- (7 s. mv)
White Cloud -- (Nro 483) - 28.8.1949
Valkopilvi -- Mustanaamio 9 / 1989 -- (7 s. mv)
Vierailija -- (Nro 487) - 25.9.1949
Vino Red palaa takaisin! -- Mustanaamio 11 / 1989 -- (7 s. mv)
Crime -- (Nro 488) - 2.10.1949
Rikos -- Sarjakuvan maailmat (Otava, 1982) -- (7 s. mv)
Fox at Bay -- (Nro 491) - 23.10.1949
Kettu loukossa -- Tapiiri 2/89 -- (7 s. mv)
Flaxen Weaver -- (Nro 498) - 11.12.1949
Flaxen Weaver -- Black Special No 2/1991 / Semic -- (7 s. mv)
The Christmas Spirit -- (Nro 500) - 25.12.1949
The Christmas Spirit -- Tapiiri 1/87 -- (7 s. mv)
Bring in Sand Saref -- (Nro 503) - 15.1.1950
Pidättäkää Sand Saref -- Tapiiri 2/85 -- (7 s. väri)
Teacher's Pet -- (Nro 537) - 10.9.1950
Opettajan lemmikki -- Black Special No 2/1991 / Semic -- (7 s. mv)
---
Muita Will Eisnerin sarjakuvia
---
A contract with God
Talo Bronxissa - 1982 / Jalava -- (185 s. mv)
---
Life Force
Elinvoima - 1987 / Jalava -- (134 s. mv)

Elämää New Yorkissa Bronxin Dropsie Avenuen vuokrakasarmeissa 1930-luvun alkupuolen lamakaudella.
---
The Dreamer - 1986
Uneksija - 1990 / Jalava -- (46 s. mv)

Uneksija on kuvaus sarjakuvan pioneerivuosilta, jolloin sarjakuva oli vasta lyömässä itsensä läpi. Uneksija kertoo uransa alkuvaiheessa olevan sarjakuvapiirtäjän tarinan 1930-luvun lopun New Yorkista, tarinan, joka voisi olla Will Eisnerin oma tarina.
---
To the Heart of the Storm - 1991
Myrskyn silmään - 1991 / Jalava -- (208 s. mv)

Kuvaus juutalaisista antisemitismin puristuksissa vuosisadan alun Wienissä ja New Yorkissa. Eisner peilaa juutalaisuutta ja antisemitismiä vanhempiensa ja omien nuoruuden kokemustensa kautta.
---
Invisible People
Näkymättömät ihmiset - 1993 / Jalava -- (110 s. mv)

Sisältää kolme tarinaa suurkaupungin näkymättömistä, nimettömistä ihmisistä:
Turvapaikka -- (32 s.)
Voima -- (40 s.)
Kaksintaistelu -- (32 s.)
---
Muissa julkaisuissa olevat tarinat:

??? --- Voitto - 1988 / Tapiiri 1 -- (8 s. mv)
??? --- Pitkä isku - 1988 / Tapiiri 2 -- (8 s. mv)
---
---
Etusivulle